On Sunday night, the internet went crazy after the much anticipated reveal of the new Marlou Arizala or now known as Xander Ford. As a matter of fact, Xander Ford was the number 1 trending topic on almost all social media platforms during the grand reveal.
Now, what most people is curious about is, 'how much did the transformation cost?' Allow us to give you a rundown of how much money was spent to make Marlou Arizala, Xander Ford.
Nose (approx. PHP 100,000)
Dr. Eric Yapjuangco, a cosmetic surgeon at the Icon Clinic said that he performed two operations on Xander. A rhinoplasty to change the shape of his nose and alarplasty to trim its width.
He also added that the cost of the operation amounted to PHP 100,000 because a Gore-Tex had implant had to be attached to Xander's nose bridge.
Chin (approx. PHP 70,000)
Xander's chin was reshaped by installing a medical-grade silicone implant to give him a more defined jawline. Yapjuangco said the chin enhancer would last a lifetime.
Teeth (approx. PHP 170,000)
Aesthetic dentist John Crespo said that Xander's front teeth were crooked and his bite was misaligned.
Crespo said ceramic veneers – porcelain attached on each tooth to augment its shape – had to be placed on his anterior teeth.
According to other dentists, ceramic veneers costs between PHP 18,000 to PHP 25,000. At least 8 veneers were attached to Xander's teeth.
Aside from the cosmetic dental procedure, Xander also availed of dental filling and prophylaxis to eliminate cavities and stains.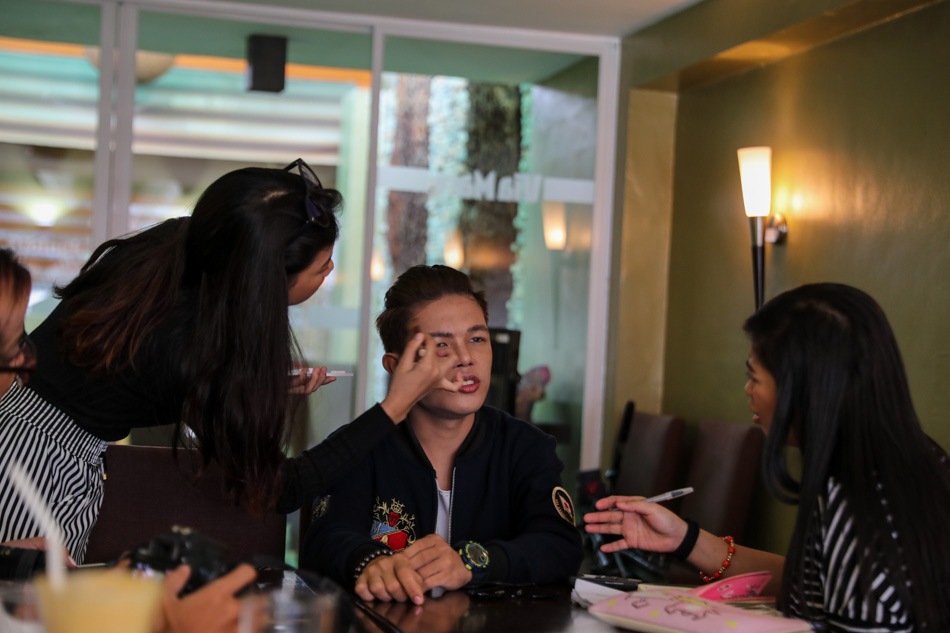 Eye Brows (PHP 35,000)
To make Xander's eyebrows thicker and more masculine, cashmere colored strands were added to it.
The Pretty Looks Aesthetics Center said the procedure cost P35,000 as it was Sue Hanna Ong – the company's chief operating officer and top doctor – who did the stranding for the former Hasht5 member.
Eye Lashes (approx. PHP 1,500)
Asia's Lashes gave Xander semi-permanent eyelashes to enhance and liven up his lids.
Lips (PHP 35,000)
Xander's lips were also tinted to make it more kissable and reduce dark color in a three-session procedure that ranges from PHP 15,000 to PHP 35,000.
Another PHP 1,000 is charged for every 'retouch' session.
Anti-wrinkle Treatment (PHP 21,000)
Pretty Looks Aesthetics Center provided Xander with the anti-wrinkle treatment. At least PHP 7,000 is charged for every body part where the treatment will be performed.
Xander needed the treatment on his forehead, neck and jawline.
Hairstyle (PHP 2,500)
SandreaLee Salon gave Arizala a new cut and dyed his tresses.
Others
Yapjuangco said Arizala still has to undergo skin whitening treatments and other procedures to give him a smoother and fairer complexion.
"Kasi medyo magaspang 'yung mukha so kailangan natin pakinisin and pinapaputi natin siya," Yapjuangco said.
Xander also said that he procured grey contact lenses.
Based on these estimates, Arizala's transformation to become Xander Ford costs a whopping  PHP 435,000. Lucky Xander did not have to spent a single cent out of the nearly PHP .5 Million expense because of his sponsors.
"Gusto kong may mabago lang sakin para maging iba din yung tingin ng tao sa 'kin," said Xander in an interview.
Source: ABS-CBN News