Pornhub, one of the world's largest pornography websites recently released its 2017 statistics on which country spends the most time visiting their website.
Based on their report, Philippines topped the list for the third year in a row. Filipinos spent an average of 13 minutes and 28 seconds on the website, much higher than the global average of 9 minutes and 59 seconds.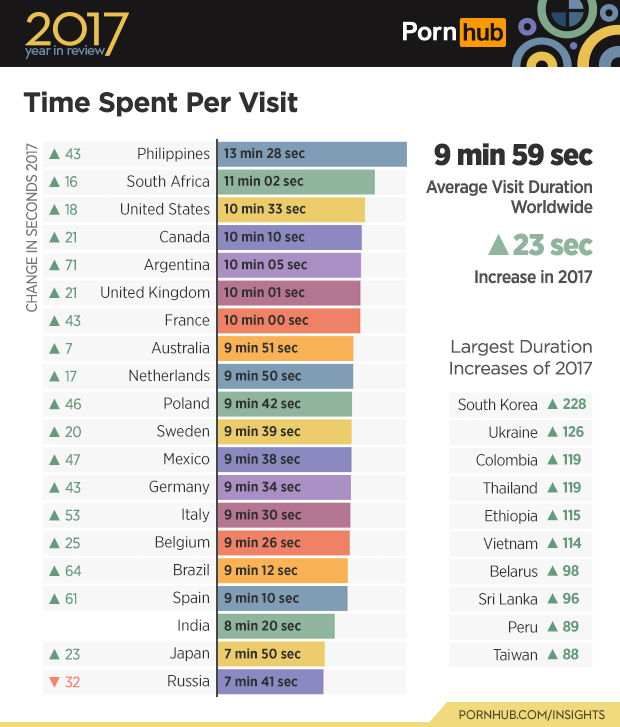 The Philippines is followed in the "time spent per visit" list by South Africa, the United States, Canada and Argentina. Despite the site being banned in the country since January of 2017, Philippines still topped the said list.
Reports also say that on an average, the Filipino Pornhub visitor is thirty-two years old, watches porn on his smartphone and most often search for the word "pinay."
Pornhub's "Insights" report also named the top personalities being searched in the Philippines. The list includes Maria Ozawa, the Japanese former porn star who penetrated Philippine mainstream cinema in 2015, Mia Khalifa, a Lebanese-born American social media personality, and Pinay sexy actress, Kim Domingo.
Pornhub also says that the Philippines also leads in the proportion of female-to-male visitors. 36% of the Philippines visitors are women as compared to 26% on a worldwide scale.
Meanwhile, Pornhub reported recording 28.5 billion visits throughout 2017, translating to 81 million daily average visits from around the world.
Watch the full report from United News International below: