Recently, the presidential granddaughter in the person of Isabelle Duterte made headlines when she held her pre-debut photo shoot inside the Malacanang Palace. People have divided opinions regarding this issue and even sparked a heated debate about the events that could be and could not be held inside the Palace.
However, it seems that the controversy on Isabelle's life did not end there. She is now in the hotseat again, this time it's between her and her dad, Vice Mayor Paolo Duterte.
This social media "war" started after Presidential son Paolo Duterte replied to his daughter Isabelle Duterte's allegations of "ruining her Christmas" every year as reported by Kami. Isabelle is the youngest daughter among the 3 kids of Paolo with his first wife Lovelie Sangkola.
Back in December 22, Isabelle shared an intriguing post about her father. The post says that Paolo is constantly ruining her Christmas every year.
She even followed up the post by tweeting about her father and accusing him of beating up someone just because he holds a position in the government.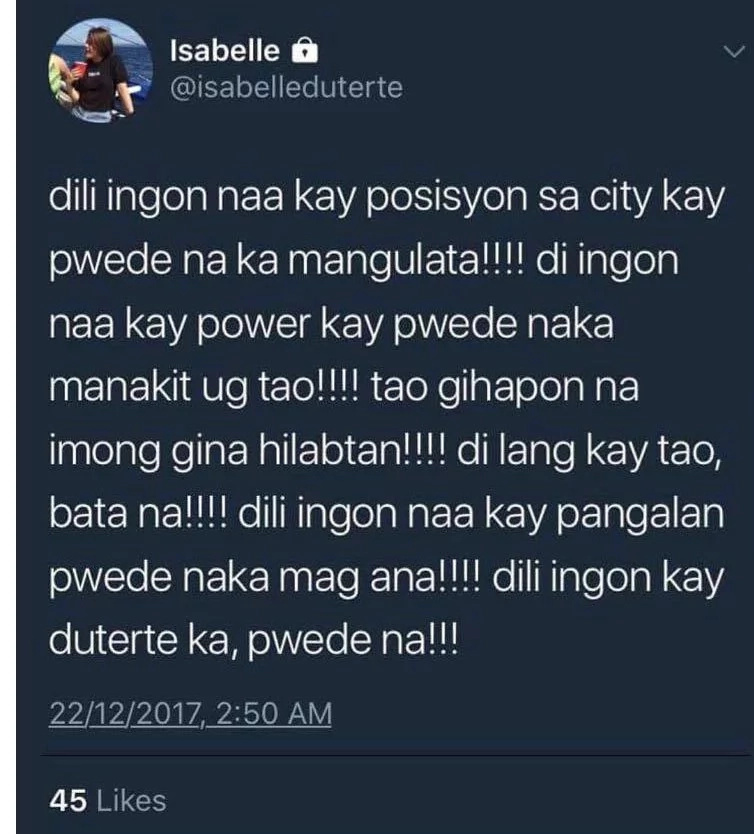 The unexpected part is that Vice Mayor Paolo Duterte reacted to the social media posts of his daughter via Social Media too. In his official Facebook page, Vice Mayor Pulong Duterte – Official, Paolo vented out his anger toward his daughter.
The Vice Mayor said that Isabelle should not be easily influenced by her mother and her step-father to do as they please. He advised his daughter to do better in school and not just focus on being famous on social media. He says that although the post would shame their family, it was his way of talking and scolding his daughter in the "Millenial" way.
Here is the post:
Whoa! That sure is one heck of a scolding. Nevertheless, let's just hope that the issue between father and daughter will be resolved soon. After all, it's Christmas – the perfect time to forgive and give love.