The megastar, Sharon Cuneta has been an in-demand singer and actress for the past few decades. Her versatility and charm has kept her close to her fans that are always there for her no matter what.
Recently, Sharon has been the center of controversy when she posted a photo on her Instagram account with regards to the Star Magic Ball.
The post says: "Must be thrilling for everyone invited to the Star Magic Ball as they prepare for it this year! (My invite probably got lost on its way to me? That's okay. Too late to have a gown made now even if it arrives. :-)) Have fun everyone!
The post may not directly say that she is saddened by not being invited but, it somehow says so when you treat the post as an Irony.
Martin Nievera, a close friend of Sharon was quick to react to the post by saying Sharon could come as his date, which the megastar politely declined saying she and her daughters can organize a cinderella ball on their own.
She even further stated that she knows her worth.
Another netizen recommended that she should go even without an invite because she is still the megastar.
Sharon, responded by saying, "Thanks so much. But I was raised to never crash a party."

Sharon deleted the said instagram post after it gained mixed reactions from netizens.
Recently, on a Facebook post, Sharon said that she was 'hurt and insulted' when she received an invitation just a day before the ball.

She further made a rant as to knowing her true worth and that she was 'made' even before ABS-CBN pirated her.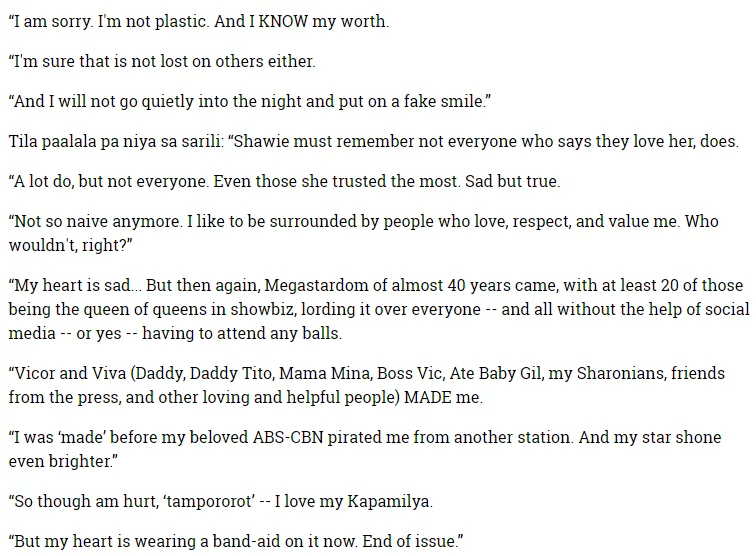 Source: Kami